A martial arts instructor should be the embodiment of the benefits of long-term training, not only while on the mat or in the school, but also day in and day out outside of the school and in their community. This is a tall order, and a great responsibility for us all.
Here are just some of the most important attributes of outstanding instructors...
Knowledge: Knowledge in the area of instruction is a must. An instructor must be informative; however, no matter how informative the material is, the class is only as good as the instructor's attitude on that given day. This brings us to the second quality which is...
Enthusiasm: Enthusiasm is a must. Enthusiasm is not taught, it's caught. If you are not feeling enthusiastic "FAKE IT 'TIL YOU MAKE IT." As instructors, we're not allowed to have a bad day in front of our students. They look to us to be the one setting the tone, and to be the dependably positive force when they have a rough day.
Personability: The ideal martial arts instructor enjoys working with people, especially children. She doesn't just tolerate children, she really enjoys them. Make sure your students know that you know they're there and that they're valued.
"Whatever-it-takes" attitude: The ideal martial arts instructor is always willing to do whatever it takes to get the job done, from mopping the bathrooms to taking some extra time with a struggling student.
There are of course many more qualities that make up a top-quality instructor, and even this list is no easy task to live up to. It's important to remember though: we are role models, and our students look to us for direction. We must always lead by example.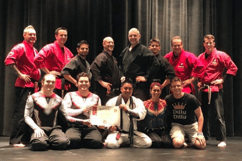 Join the Satori Instructor Alliance!
Take your instructors to the next level with their classroom management, communication skills, professionalism, and critical thinking. Become a part of an instructor association that help certify instructors and has raised the bar for teaching in martial art industry.