Walking into a martial arts school for the first time and preparing to take your first class, can be a wonderful experience for some, but terrifying for others. It's our mission to help every new student feel at ease and ready to conquer their first class. The more successful you are at doing this, the more likely your new students will stay for the long-haul.
Follow these few tips to ensure every student is successfully introduced to your school.
Introduce the new student to a buddy. Meeting a new friend makes every situation feel a little safer. Especially if it's before going out to class for the first time. New students will have a friend to ask questions to during class and maybe even partner up with for drills. Your other students should have practiced how to introduce themselves to new people. If not, consider taking a few minutes at the beginning of class to have your students introduce themselves to someone new in the audience.
Don't let them feel lost. Nothing's worse than being with a group of people but feeling like you're the only one that doesn't know what's going on. Allow time and staffing for an instructor to pull all new students aside for a one-on-one lesson on the basics. This allows the students to become comfortable with an instructor and have an idea of what they should be doing during class.
Acknowledge them. Instructors should be introducing themselves to new students and to their parents. Make them feel special. Highlight new students for everything they do well in class. This is a good rule-of-thumb for all your students, but especially those that might need a little more encouragement.
End class on a good note. It's the end of class and the new student is feeling a blend of relief and excitement, so this is our last chance to make them ready to come back for their second class. For many schools, the end of class is when new students earn their white belt which makes it a great time to announce to the class how brave it was for the new student to join class. This last acknowledgement of courage and bravery will surely make the student feel that they belong in that class.
Each student that walks through our martial arts schools' doors for the first time has a different fear they're conquering. Our goal is to make them feel comfortable, confident, and lead by example. The best we can do is show them how much martial arts training means to us and to everyone else in class. The first step is to always make them feel welcome.
---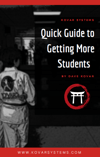 Looking for ways to grow your school and get more new students? Check out our ebook "Quick Guide to Getting More Students"and download it for free by clicking here.
In this guide, we'll cover the basics for success in recruiting at outside events, so you can build a solid foundation for consistently gaining new students in your school.