This week's blog is from Renshi Jeramy Sipes, one of our talented Success Coaches and veteran instructors. Jeramy Sipes has been training since 1994 and is a 4th Degree Black Belt Instructor (Renshi) within our Kovar's Satori Academies. He also trains in Brazilian Jiu-Jitsu and boxing.
I am blessed to be a professional martial arts instructor. Teaching martial arts is my career. It's how I provide for my family. I'm part of a team and have my role to play to contribute towards our continued success. I started teaching as a 16 year old helper on the mat and I am now a Lead Instructor. That is motivating all on its own, and is just one of countless benefits to teaching and working where I do. However, as exciting as all those reasons are to come to work every day, without a doubt in my mind, my passion for what I do and my need for growth comes directly from my love for the Martial Arts as a continued student.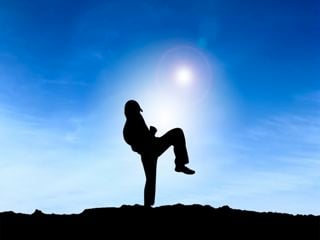 I know my passion and fire is kept alive with consistent training with a team that helps me grow and learn. Training with my co-workers and staff over the years has been the most valuable experience of my Martial Arts and Teaching Career.
I have seen Martial Artists over the years focus so much on growing their school or perfecting their teaching skills that they forget what is at the core of what we do why we do it… We love Martial Arts! The main challenge with this is that we may forget how important Martial Arts is to us because we are caught up in other areas of life or business and, in turn, lose the habit of training. It's important to remember for both you and your teammates that training will make the difference between a "Good" and a "Great" Professional Martial Arts Instructor!
I know I am a better Martial Artist, a better Instructor, and a better teammate because of the team training I work to stay a part of. Allowing myself to continue to be a student of the arts helps me better relate to my team and students. Training also keeps my mind and body strong to handle the challenges that may be thrown my way. My team and my students deserve my best and I've learned that I'm at my best when I'm training.
I hear Kyoshi Kovar say on a regular basis, in regard to being a Quality Professional Martial Artist:

"Martial Artist First, Teacher Second, Business Person Third."
What a great way to stay focused and keep the passion for Martial Arts alive! We are fortunate enough to, on a very regular basis, do what we love. KEEP THAT FIRE ALIVE!!!
Are you honoring yourself by keeping your training schedule as a can't-miss priority? Are you setting the example for your team to keep their training a priority as well? If you're not already, consider making training together as a team part of your regular routine. Staff training time is great for everyone to be on the same page, do some bonding through shared experiences and will help the team reach new levels.
You are more likely to have a staff that is cohesive in their teaching skills and in executing business tactics if they are training together on a regular basis. Plus...IT'S FUN!
"The Best Instructors Training is Instructors Training," - Kyoshi Kovar
Some things to think about:
How does it make you feel to get out on the mat and really improve your skills?
Does your team have the availability to train on a regular basis now that they are teaching?
Do you remember the last sweat session you had with your team? How did you feel after?
Have you sat down to discuss training goals with your team? Including yours...?
Enjoy your time on the mat!
Ossu.
---
If you would like access to our Kovar Systems Resource Library, team of Success Coaches, and other resources to grow your martial arts school, we offer a free school assessment by appointment by clicking here.