Today's blog comes from one of our amazing ProMAC Success Coaches, Renshi Paul Duarte. Renshi Duarte is also an accomplished school operator and above all a dedicated martial artist.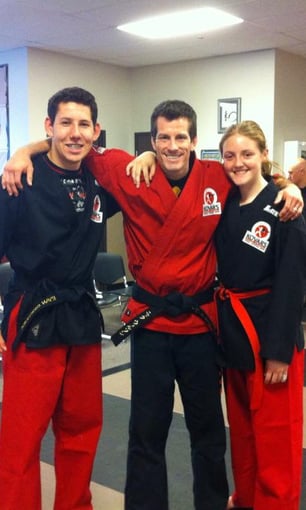 You can have a beautiful lawn with luscious blades of green grass one day and a dry, dead, yellow lawn the very next day. Sometimes the lawn might be flooded over and sometimes there is a drought on the block. Have you noticed that the grass is greener on the lawn next door? Your lawn can sometimes even have nasty visitors too, termites, gophers, freeze issues... It can even over grow, become a jungle, unmanageable. A true mess.
But we aren't talking about outdoor lawns… Are we?
Your lawn is a metaphor for your martial arts school. How do you like to keep your school?
Are you constantly marketing for more students? Have you let your marketing dry up? Do you forget to put the time into managing your school and strategizing your marketing campaigns? Are you sometimes overwhelmed by too many actions at once? Or sometimes low class attendance? Does the competitor school across the street have a better looking school? Are more students walking through their front door than your own? Do you get some bad apple clients or parents just looking for freebies? Do you struggle with retaining existing students?
Unfortunately there is no known magic seed that will ensure a constantly successful business year round. What it all boils down to four simple words "Consistent Effort over Time."
So where to start? Well first you need to identify with your school's current status and set attainable goals to set your sights on from here forward. Begin by tracking the source of every inquiry, every lead, every new student that walks into your school. The more you track, the sooner you will see a pattern begin to develop of the most common sources your students are coming from. Start documenting how many students came to you from each and every event you have. It is also helpful to note the quality of the leads from each event so moving forward you will know where to place your emphasis.
I realize some of you have limited or no staff at all so you may be thinking, "sure that sounds great but I don't have the personnel to market my school every week". Well, why not? How hungry are you, how much do you want to succeed? I pose this question, "If not you, who? And if not now, when?" This may sound harsh but we must fight like a challenger to become a champion. Or, to revisit our earlier metaphor, the lawn won't tend itself.
Below I have written a possible game plan to help you develop a year-round marketing campaign with resources only available as members to the Kovar System. To join our ProMAC team and gain access to these documents, please contact our services specialist.
1. Begin collecting your stats. See "The Value of Statistics" in the Resource Library. 2. Study your stats to determine which events were the most successful and prioritize them for next year.
3. Get out your ProMAC 365 calendar and list all the events that were successful in the past.
4. Ensure that you register for events in advance and prepare all the materials you will need for each event a month in advance. See our Resource Library for Marketing Materials and "10 Things to get Done to Improve Your Online marketing"
5, If you have staffing, ensure everyone is thoroughly prepared for their role in the event you have planned. An impact statement is a great way to prepare for any outside event.
---
ABOUT AUTHOR: PAUL DUARTE
Renshi Duarte first began training in the Martial Arts in 1975. He returned to the Martial Arts in 1990 under Kyoshi Kovar, after taking time to focus on his education and family. Renshi Duarte is a 4th degree black belt in Kenpo and has studied extensively in Iaido, Escrima and Kobudo. Renshi Duarte is a Vietnam Veteran and served as a Security Technician during his four years of service.
Renshi Duarte began teaching Martial Arts in 1996 and in 2004 he opened the Kovar's Laguna Academy. Within one year of opening the Academy it grew to an active count of 300 students. Renshi Duarte's efforts have been recognized by the California Senate who awarded him a Certificate of Merit. He currently serves as mentor and safety officer in addition to his duties as a ProMAC success coach.