Today's blog is written by one of our Success Coaches, Ilya Mir. Mister Mir works at our Natomas location as a program director. He trains both in kenpo (3rd Degree Black) and Brazilian Jiu-Jitsu (Blue Belt).
Here at Kovar's Satori Academy, we have a saying that there is no one way to get 20 students, but there are 20 ways to get one student. While this is true, I am going to share with you one new student recruitment method that has worked well for us and has allowed growth within our Natomas school from 142 to 400 students.
Of course we regularly run Buddy Days, Birthday Parties, Belt Promotions, Fundraiser Fliers, etc. to obtain new students, but the single most effective and efficient way of recruiting new students for us has been participation within local elementary school events.
So, how exactly does it work? Here are the steps that have worked well for us:
Identify local schools and research their events.
Every year, around early August we look up events taking place at local elementary schools. It's common for schools to host annual events such as Harvest Festivals. There are 12 schools within the 5 mile radius from our Academy, but we have identified the top 5-6 that our best feeders.
Find the best way to contact the school.
The best way to contact the school is through the parents. We have been blessed with a number of students whose parents are active on the PTA circle. If that doesn't work, you can always email the PTA. We have also emailed the Principal and the School Secretary before as well. Email usually works best as initial contact and you can use phone as a follow-up.
Offer value to schools.
We typically offer an opportunity to have our demo team participate (be sure to include links to your demo team performance) and also run a board breaking booth. A really sweet deal for the school would also be fundraiser fliers that we would print at our cost, distribute at the event and then also offer 5 weeks for $49 with the money going back to the school. A certainty for repeat participation if donations are plentiful.
Schedule appointments.
Have one goal in mind: schedule appointments. Ideal team composition is two younger staff holding re-breakable boards for kids to break while two more experienced staff can engage with parents and schedule appointments. We have three younger staff members who started holding board and are now comfortable scheduling appointments. At one of our last events, they scheduled 24 out of 27 appointments. I was very happy to see them grow and progress!
Important: We do NOT collect phone numbers or emails for follow-ups. We only schedule appointments. We also make sure to send them immediately a reminder email through our Enrollment Accelerator system.
Follow up, follow up and follow up.
If you don't follow up, the vast majority of appointments will never show. We make sure to send an email through the Enrollment Accelerator and also call the day before. We continue to reschedule those who don't show until they either say they aren't interested.
Offer your trial plan to get them started.
Normally our trial offer is 4 weeks free. At our location, we prefer charging $40 for the uniform for two major reasons:
It's a great qualifier. Those who can't spend $40 for a uniform will not be able to afford our monthly rate.

It's excellent retail revenue with an exceptional profit margin.
--
So here are our stats for the Fall…
-We did 3 events generating 68 appointments.
-Total time spent is 6 hours.
-Plus, a donation of $200 for one of the schools.
-39 appointments showed up, 38 signed up for the trial and 14 enrolled.
Bottom line, we grew out school from 349 to 379 students in 2015.
Now the question for you is… What are the elementary schools you can contact right now?
For more knowledge-share and success coaching from our professional Success Coaches, click here to find out how you can sign up as a Satori Community Member.
--
About Author: Ilya Mir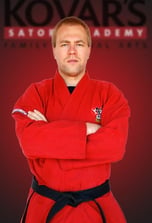 Employee with Kovar Satori Academies since 2006, Ilya Mir has a 3rd Degree Black Belt and a Blue belt in Brazilian Jiu-Jitsu. He is currently the a successful Program Director at the Sacramento-Natomas location. In grappling Ilya Mir is a Fourth-Time California State Champion.