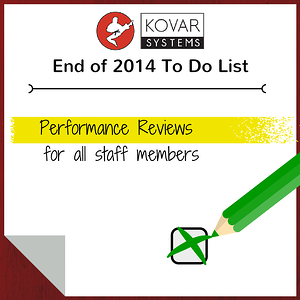 As 2014 comes to a close, there are many things you as Martial Arts School Owners can do to prepare for a successful 2015. One of the items on my to-do list is having one-on-one meetings with my staff members to conduct performance reviews.
Here's how to do it:
Meet with every member of your team individually to discuss how they are doing. Before the meeting, ask them to complete a short self-assessment that asks for them to assess how well they feel they have done in their role at your school. Be sure that this form asks for their goals for the coming year.
Here's a self-assessment form you can use:
Read it over before meeting with them.
Review their goals with them and discuss how you, and they, can work together to help them achieve them. Consider any opportunities to increase their responsibility and express your confidence in their ability to perform these new tasks. Discuss opportunities for advancement in martial arts and, if appropriate, in their career. End on a positive note. Your goal is for them to walk away feeling more positive than ever about their role at your school.
For more tips on how to have the best 2015 ever, check out my 2015 School Improvement Plan by clicking the link below!