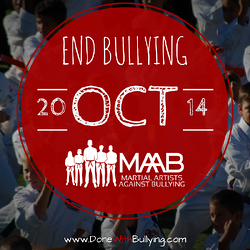 October is National Bullying Prevention Month, an event founded by PACER (the Parent Advocacy Coalition for Educational Rights) in 2006. With awareness of bullying at an all-time high this time of year, it's an excellent opportunity for martial arts schools to contribute to their communities by hosting free anti-bullying classes.
I founded Martial Artists Against Bullying (MAAB) because I believe that no other industry is in a better position to do something about bullying than the martial arts industry. Since we launched the program, several of our members have successfully conducted the Done with Bullying program at their schools, with hundreds more pledging to do so within the next year.
I believe that National Bullying Prevention month offers a special opportunity for us to raise awareness and education about anti-bullying techniques. So we've created a blueprint to help martial arts school owners plan, promote and conduct the Done with Bullying program this October. This step-by-step guide is intended to help martial arts school owners get maximum exposure and participation in their communities to take a stand against bullying.
The blueprint is laid out as a nine-week plan for your school with a to-do list of suggested tasks and resources for each week. We recommend beginning your event promotion the first week of September and conducting the Done with Bullying program in four sections (one each week) in October.
I hope you can use this blueprint to make your Done with Bullying program a success. If every child had the opportunity to learn about bullying prevention, imagine what a difference it would make.
Thank you for being a part of Martial Artists Against Bullying. Together we can change the world, one lesson at a time.